Frequently Asked Questions
What is The Norfolk Towne Assembly (NTA)?
---
The Norfolk Towne Assembly is a not-for-profit educational organization started by a group of people who love and appreciate the elegance, society, culture, arts, and dance of early America during the period from 1790 - 1830. We strive to provide like-minded people a community to share and discuss their fondness for the period as well as to provide opportunities to pass on our interest and knowledge to others.
---
What does the NTA do?
---
The Norfolk Town Assembly has three primary areas of activity. 1. Historical Dance. This includes: Period-inspired Balls.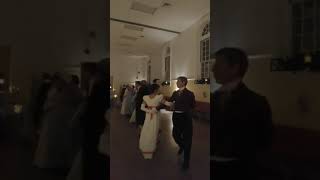 Demonstrations of historic dance.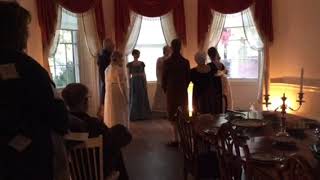 2. Educational talks on topics regarding late-18th and early 19th century social and cultural history.
3. Period skills demonstrations for groups and at Living History Events.
---
Do I have to be a member of the NTA to participate?
---
Generally, no you do not. However, we hope you will choose to become a member and support our programs. From time to time there may be a few "Members Only" events or events where the size of the venue limits the number of allowed attendees and our members get priority in filling those slots. You must also be a member in order to vote in any "sense of the membership" polls or meetings.
---
What are the requirements to join the NTA?
---
All we ask is that our members have an interest in the historical period between 1780 and 1830 here in the United States. We would also appreciate it if those who choose to join us had an interest in taking an active part in our organization and its programs. How often you participate is up to you. We would love the pleasure of your company but understand that life and family commitments sometimes get in the way.
---
How can I support the NTA as a member?
---
First and foremost, take part in our events/activities. There are other ways you can help as well. As an all-volunteer organization, there are always lots of things that need to be done. Some of these include: Event planning Taking part in educational/living history demonstrations Become part of our historic dance demonstration team Writing blog articles Planning, researching, and giving presentations For those who are interested in becoming even more involved, there may be opportunities to serve on the NTA Board of Directors.
---
Do I have to dress in period clothing?
---
For some events yes, and for others, only if you want to. For instance, the members of our historic dance demonstration team must dress in period clothing for their demos. The same is true for anyone taking part in a living history event. On the other hand, if you are giving a talk to a group, period clothing is not required but can sometimes enhance the effect of one's presentation. The same is true for our Balls - attendance in period clothing is admired but modern formal or semi-formal clothing is quite acceptable.
---
Do you have "authenticity standards" for those in period dress?
---
For those events where we require period dress (dance demonstrations and living history events) we do have standards. When we are involved in these types of activities, we are tasked with presenting a picture of early-19th century America to the public. Because of this we need to try to keep our appearance as close as possible to historic examples. The NTA is, in fact, a hobby. But it is one with a serious duty to educate the public in the reality of the past. We take the approach of setting a "minimum standard" for entry and then each of us tries to improve our historical impression consistently. We have found that the folks who do come out in costume make a good faith effort to be as authentic as their knowledge and budget allows and we expect that fellow participants will respect those efforts. After all, everyone starts somewhere! All hobbies have barriers to entry. If you want to play golf you need to have a set of clubs or have someone who can lend you a set. There are certain costs of being properly costumed but they are not insurmountable. If you sew, there are patterns available that will give you the period look with varying degrees of accuracy. If you don't sew, there are merchants who can custom make clothing for you. Once you get to know folks in the group, talk to your fellow members as they may be able to help you find resources.
---
What kinds of civilian living history portrayals can I do?
---
Late-18th and early-19th century society had many different jobs/professions just like we do today. A seaport, such as Norfolk, included choices that might not be available to those portraying civilians in the interior of Virginia. While our list of possible civilian living history impressions is far from comprehensive, it will give you an idea of the wide range of choices available.
---
---